De wielen zijn een heel belangrijk onderdeel van de inline skates. Hiermee maak je contact met het wegdek. Je wielen bepalen mede je snelheid, grip en wendbaarheid tijdens het skaten.Skatewielen hebben bepaalde eigenschappen en jij kiest wat jij belangrijk vindt. Rijd je toertochten, wedstrijden of skate je voor de fun? Dit is bepalend voor de keuze van je wielen. In
dit artikel
vertellen wij je meer over de aanschaf van wielen voor je inline skates.
Wij verkopen de inline skate en skeeler wielen van Atom, Hyper, Matter, MPC, Powerslide en Zandstra.
Matter G13 CHR 125mm F1
Product
Qty

Matter G13 CHR 125mm F1

€ 

34,95

Art# 4040333486023
Matter G13 CHR 125mm F1
The biggest difference with the previous version is the renewed core of the wheel. The wheel with the renewed CHR core of Matter ensures that you can drive better curves. You get more out of the new 125 line-up: you can steer more easily and that makes the double push stroke easier. The wheels are lighter in weight than the previous model. Perfect for race drivers who want to get maximum speed from their skates!
There are several types of 125 mm wheels:
-Wide profile
-More grip
-More straight line roll
-More power in the push
-Thin profile
-Easier to skate
-Easier to gain double push edges
-Lighter
-Same specifications as G13 125mm
-Flexible core
-Somewhat less durable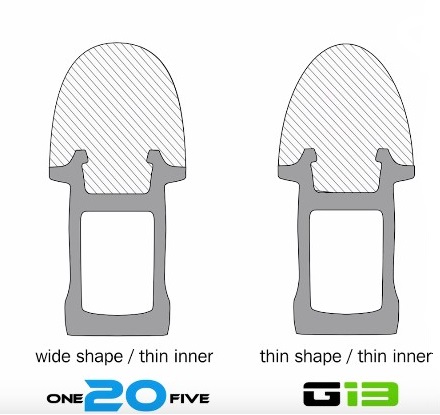 Delivery information
Orders above the € 50,- will be shipped for free within the Netherlands
The delivery options available for shipping this product along with the contents of your basket are:
Pick up (Westkanaalweg 10e, 2461 EC Ter Aar, Netherlands) => Free
Registered:

-EUR 1 => € 21,65
-EUR 2 => € 26,65
-EUR 3 => € 27,95
-WORLD => € 35,95
The above prices are for packages up to 5kg. It may happen that we can send your ordered products in a cheaper way. Should this be the case, we will first contact you. After an agreement, we will refund the excess amount back to your account. If you want more information about the shipment you can go to the English version of PostNL. On this website you can find how long it will take before your parcel arrives.
If you want to track your parcel ask us for your exclusive Track & Trace code. You can follow your parcel on PostNL
Return information
You can return items within 14 days. The 14 days are counted from the day of delivery, unless otherwise stated in the presentation of the article. Unused, unwanted items will be refunded to the customer minus shipping. Pay attention to the following for returning your bought article:
Always return the article in the original packing
Cards and labels may not be removed
We cant accept articles which have been worn, used, damaged or any other way they dont fulfil to our guidelines as they have been send back
Always add the return form, with the completed reason of return
If the above conditions aren't fullfilled your purchase wil be official, and we won't give you a refund and send your goods back to you.
Detailed information on returning can be found in our return form. This is also included with your parcel.